Category Archives:
Donald Trump
We should all be deeply concerned about two kingdoms theology. Its disastrous effects on the church are evident, are they not? Recent evidence indicates that two kingdoms theology explains why some Christians, such as Christian Right pastor Robert Jeffress, support Donald Trump and the Republican Party. As David R. Brockman warns in the Texas Observer, Jeffress "has deployed Two Kingdoms thinking repeatedly since the presidential election" to justify his support for Donald Trump. If you believe Christianity requires that Christians support the Democratic party, that should be deeply concerning.
But wait. Recent evidence also indicates that two kingdoms theology explains why some Christians, such as Andrew White, candidate for governor of Texas, are Democrats. As Larry Ball warns in the Aquila Report, White's approach "is deduced from what is called two-kingdom theology." If you believe Christianity requires that Christians support the Republican party, that should be deeply concerning.
These articles advance arguments I have repeatedly heard from the lips of Reformed theologians and pastors. One highly esteemed Reformed scholar told me he is convinced that two kingdoms theology is on the rise because it gives Christians an excuse to support the Republican party despite its unChristian tendencies on poverty and race. Two kingdoms advocates, he believes, are crypto-Republicans. At the same time, numerous pastors have told me they are convinced that two kingdoms theology is on the rise because it gives Christians an excuse to support the Democratic party despite its unChristian positions on abortion and same-sex marriage. Two kingdoms advocates, it turns out, are crypto-Democrats.
I suppose a cynic would say that this is precisely the problem with two kingdoms theology. It complicates the link between the kingdom of God and the politics of this age, and so it allows Christians to support whatever positions they want, regardless of biblical teaching. Real Christians, thoughtful Christians, know which party is the Christian party. Right? Right?
So which party is it? Just how would Jesus vote if he were to become a citizen in 2018 America?
Who's right, Brockman or Ball? Jeffress or White? Just which side is two kingdoms theology on! Christians demand to know. Partisans purport to reveal the real truth of the matter.
What if it turns out that Christians have substantial disagreements about politics precisely because neither political party faithfully serves the interests of justice, let alone of the kingdom of God? As my friend Mika Edmondson likes to say, if you have an easy time voting for either the Republicans or the Democrats because you are convinced that their policies align so perfectly with the teachings of Christianity, you have been deceived. The real tragedy, as my friend and colleague John Witvliet has put it, is that Christians feel forced to decide which part of a consistent ethic of life they will support and which part they will abandon.
I know. This is anathema for those who are so convinced that their party is the Christian party. And I know that because two kingdoms theology consistently challenges those who sanctify the politics of either the Right or the Left, articles like these will continue to be written and published. But do not be deceived. Brockman and Ball actually have much in common. They are both frustrated that two kingdoms theology refuses to sanctify their own politics.
This suggests to me that two kingdoms theology is actually getting something right, and that we need more of it, not less. It's time for the church to stop being co-opted by either the Left or the Right. The gospel has much to say about justice and righteousness – and about politics too – but we only get it right when we seek first the kingdom of God and its righteousness, refusing to confuse that kingdom with America or with the policies of any political party.
It's time for the church to be the church. If you are sick and tired of the politicization of the church – if you are eager to see the church faithfully witness to the kingdom and its righteousness as it applies to every area of life, without compromise to any political party – then two kingdoms theology is for you.
I began wrestling with this question last week Sunday when I read about two Christian families from Syria who, after fourteen years of working to attain permission to come to America, were told upon arriving at the airport that they either needed to leave the country or lose their visas. As CNN reported that morning:
Two brothers, their wives and children left war-torn Syria with 16 suitcases and crossed the border into Lebanon. They were finally on their way to the United States after working for almost 15 years to join their family members stateside.

But after a flight from Beirut to Doha, Qatar, and then to Philadelphia on Saturday, the two families were told to get on a flight back to Doha. It was because President Donald Trump had just signed an executive order denying citizens from seven countries, including Syria, entry into the United States.
One can imagine what these families – their last name is Asali – were going through. The years of painstaking work on applications and all manner of procedural requirements. The emotional stress. The financial cost. The lack of understanding (they spoke limited English and had no access to a lawyer or to their family members in Pennsylvania). The fear of what returning to Syria – where hundreds of thousands have died during the past few years, and where their ethnic group is one of the most persecuted – might mean. They already had a home purchased for them and fully furnished in America.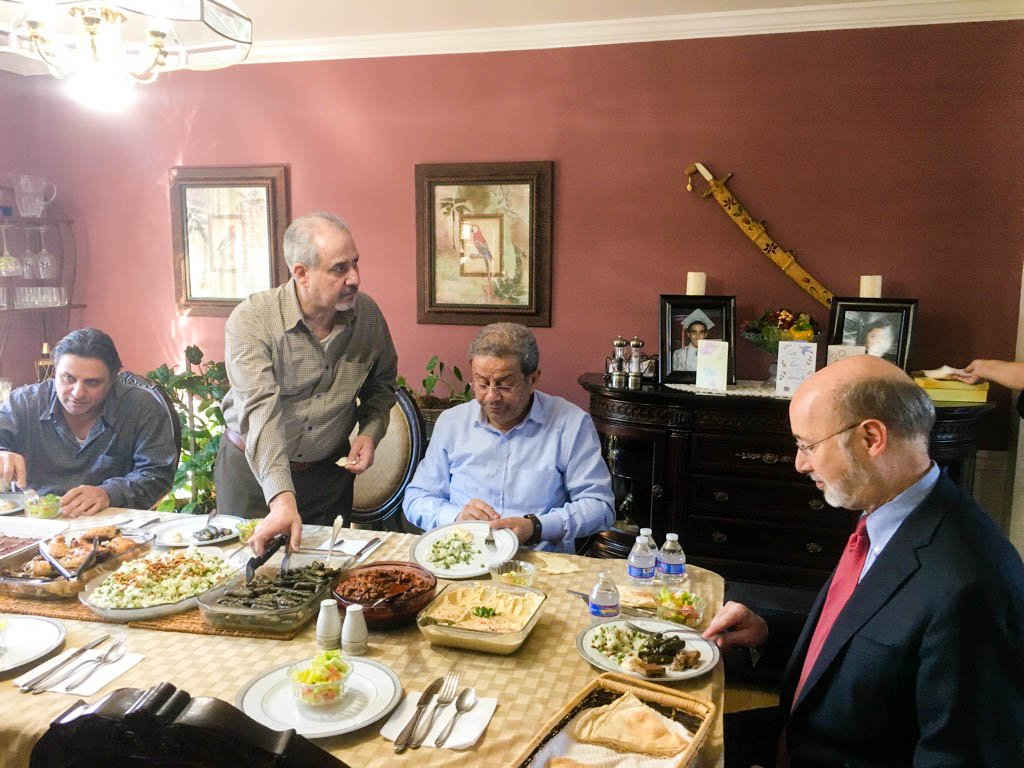 I wrestled with how the church should respond to Trump's travel ban that morning. In the services I led I reminded the worshipers of the trauma families like these are experiencing. And I prayed for them. I prayed for all those who were suffering from the president's sweeping travel ban.
But I didn't write anything publicly because I wasn't sure how to approach the issue in a way that wouldn't seem politicized. Christians are already deeply divided about immigration and about what our government has to do to protect us from terrorism. And it is, in fact, a primary responsibility of government to protect us from terrorism by controlling who is permitted to enter the United States. So we need to be very careful here. No pastor has the right to dictate immigration policy, let alone national security policy, from the pulpit.
That said (and I would not say this in a church service), the sheer arbitrariness and irrationality of President Trump's travel ban is quite well established. For one thing, even its staunchest defenders do not defend its execution. But we can go beyond that. Not a single properly vetted refugee has carried out a terrorist attack in the United States since 9/11. As the Atlantic observes:
Over the last four decades, 20 out of 3.25 million refugees welcomed to the United States have been convicted of attempting or committing terrorism on U.S. soil, and only three Americans have been killed in attacks committed by refugees—all by Cuban refugees in the 1970s…
Here's another fascinating statistic. As the libertarian Cato Institute points out, "Foreigners from those seven nations have killed zero Americans in terrorist attacks on U.S. soil between 1975 and the end of 2015."
The reality is that most of the terrorist attacks America has endured since 2001 have been committed by American citizens or permanent residents. True, some of these were foreign born. But to quote the Atlantic again, "Between 1975 and 2015, the 'annual chance of being murdered by somebody other than a foreign-born terrorist was 252.9 times greater than the chance of dying in a terrorist attack committed by a foreign-born terrorist.'"
There is good reason, then, why the courts might not find that President Trump's travel ban bears rational scrutiny – as it must, in order to be constitutional. We shall see where it all ends up, but I am thankful that, because of what the courts and other government officials have done, the Asalis have returned to the United States to stay.
In the meantime, what should the church do? Let's be clear. I don't think we should bring the politics or policy of the travel ban into our services. We need to be very careful here. We need to pay President Trump, his officials, and our courts the respect and deference we owe them, as the New Testament commands.
But that doesn't mean our churches should stand by silently as human lives are thrown into chaos by the fallout. It doesn't mean we should cease praying and advocating for the widow and the orphan, the stranger and the refugee. The vast majority of those affected by the ban are peaceful people who want to come to the United States for freedom, security, and prosperity just like our own ancestors did. And a good number of them are our brothers and sisters in Christ. Some of them are already part of our churches. We are responsible for them. We need to remember Paul's admonition that if one part of the body suffers, we all suffer. Only by bearing one another's burdens can we fulfill the law of Christ.
When I was a boy growing up in the mountains of northern British Columbia our small Christian Reformed congregation sponsored a refugee family who had been forced to flee the horror of genocide in Cambodia. I remember one young boy, Naroon was his name, who became my friend. We were about five years old. His family attended my church. The body of Christ became a ministry of salvation for them in a way that I will never forget.
At the very least, then, every church must make one thing clear. We stand in solidarity with refugees and immigrants. We respect our government's right to determine when and how they come into this country, but we pray and advocate for the acceptance of as many refugees as is safe and feasible. Then, once they are here, we welcome them with open arms. We care for their material and spiritual needs. We help them find jobs, homes, and playmates for their children. We seek reconciliation and unity with them as brothers and sisters with whom we desire to be one body in Christ.
If we are afraid to do these things as churches and as Christians because they offend our political sensibilities then we had better take a deep breath and reconsider our politics. We have to ask ourselves, where does our primary loyalty lie? Jesus, for his part, has told us that he will take our treatment of refugees personally (Mathew 25).
To stand in solidarity with refugees and immigrants is not to politicize the church. It is to fulfill the exhortation of Christ in Matthew 25:45, "whatever you do for the least of these, you do it for me."
"Carry each other's burdens, and in this way you will fulfill the law of Christ" (Galatians 6:2)
That's what the Apostle Paul wrote to a church riven with ethnic, cultural, economic, and, yes, political divisions. That's what it meant for a church to practice the truth that "there is neither Jew nor Gentile, neither slave nor free, nor is there male and female, for you are all one in Christ Jesus" (3:28).
The voting patterns of Christians in Tuesday's elections reveal that this practice did not guide Christian political engagement in 2016. The best predictor of how a Christian voted was not his or her theological beliefs or denominational membership. It was his or her ethnicity. Black and Latino Christians voted for Clinton by massive margins, though not as much as they did for Obama in 2008 and 2012. And white Christians voted for Trump in even stronger numbers than they did for McCain or Romney in years past.
But the biggest indictment of the state of the church following election 2016 is not that the church voted differently based on ethnicity. Indeed, if you are a black Christian who voted for Trump (and I know some who did), or if you are a white Christian who voted for Clinton (and I know some who did), you have no basis for pride, as if by going against your ethnic group you somehow fulfilled your responsibility of bearing your neighbor's burden.
No, the bigger indictment of the church is the way in which we have castigated and even demonized one another across the political aisle, the way in which we have turned away from one another in anger and in bitterness, the way in which we have refused to do the hard work of understanding one another's political concerns and so seeking to bear one another's burdens.
Are you an evangelical Republican who cannot fathom why African American and Latino Christians fear a Trump administration? Then you have a lot of work to do. Are you an evangelical Democrat who cannot understand why poor and middle class white voters feel alienated in twenty-first century America without attributing that alienation to racism or bigotry? Then you have a lot of work to do.
Let me put it this way. If you cannot understand why your fellow Christian voted for the opposite candidate, if you cannot sympathize with his or her vote – even if you strongly disagree with it – you have not loved him or her in the way that Christ has loved you. Jesus was able to pray from the cross for those who tortured and murdered him, "Father, forgive they, for they don't know what they are doing" (Luke 23:34). There was sympathy in that statement. Jesus had the capacity to sympathize with his enemies, even in their demonic act of crucifying the Son of God, because he grasped that given what they knew and believed, they thought they were doing the right thing. And he loved them enough to forgive them for that, and even to take the burden of their sin on himself as he died for them on the cross.
Many Christians are feeling bitterness and anger today. Some are relieved that a person they saw as a grave evil and a threat to American democracy was not elected to the White House. They cannot fathom how so many of their brothers and sisters could have voted for someone who wants to expand abortion rights and fund abortion with federal taxpayer dollars. How can one claim to be a Christian and support such a woman?
Others are fearful that a person they view as a grave evil and a threat to American democracy was elected to the White House. They cannot fathom how so many of their brothers and sisters could have voted for someone who is explicitly racist and misogynist and seems manifestly unfit to govern. How can one claim to be a Christian and support such a man?
These divisions run deep. We cannot move on in the church as if none of this ever happened. Many Christians are wondering how they can remain united in love and Christian friendship with those whose political choices seem so patently offensive.
Let's be clear about one thing. Big issues were at stake in this election. The disagreements that divide Christians are serious. They are not trivialities that we can lightly set aside. We cannot simply dismiss political concerns as if they have nothing to do with the life of the church.
And yet, Christians who voted for Trump did not do so by and large because they are racists and misogynists. Likewise Christians who voted for Clinton did not do so by and large because they support abortion. Christians who voted either way did so because they felt that only that candidate understood their deepest fears and anxieties. They did so because they were fearful that the other candidate did not have their deepest concerns at heart. Most Christians voted the way they did because they trusted that one candidate had their backs and the other candidate didn't.
Few Christians took the time to understand how their own brothers and sisters could see things so differently. Few of us practiced the gospel sufficiently to take the time to listen and learn. Few of us were willing to set aside our own fears and anxieties so as to genuinely carry each other's burdens.
As Jon Foreman wrote in the Huffington Post before the election:
Fear gives birth to fear. Hatred gives birth to hatred. Violence gives birth to violence. "Love is the final fight." I sing these words every night. They were inspired by a hero of mine named Dr. John M Perkins, a man who refuses to respond to hatred with hatred. A man who understands that the fight for freedom is larger than just one story. It's a small, fearful mind that refuses to hear any narrative other than their own.
But love ends that cycle. Love chooses to allow someone else into your story. Love listens to a stranger's story, and allows that story to mix and dance with your own. Dr. Perkins chose to show love knowing he might receive nothing in return. It's a dangerous, costly response to hatred and violence. But love alone can end that cycle of hatred, violence, and retaliation. Our stories are different, you and I. And we will disagree. But love chooses to listen. Chooses to care. Chooses to acknowledge that your story has the same weight and value as my own.
Can we do this as Christians? We didn't do it leading into the election. Can we do it under the presidency of Donald Trump? Will Republican evangelicals who see their sisters and brothers – their political opponents – wounded and beaten on the other side of the road and cross over to take up their need as their own, in the spirit of the good Samaritan? Will they stand with them in solidarity, pleading their cause as if it were their own? Will Democratic evangelicals who feel beaten and betrayed accept such an effort at reconciliation and love in a spirit of gospel hope? Will they stand in solidarity with their evangelical opponents, pleading their cause as if it were their own? Do we have the humility to recognize that our own political judgments might not reflect the whole picture, that they might even be wrong?
Many see in times such as this only cause for discouragement and despair. Those whose hope is rooted in the gospel rather than in princes (Psalm 146) must instead see opportunity. Never has it been so clear how much we, as Christians – not to mention our neighbors – need the gospel. Never has it been so painfully evident how little we are practicing the gospel across ethnic, economic, and cultural boundaries.
But therein lies the opportunity. The opportunity to repent and recover the gospel with a degree of faithfulness and clarity we have not known up to this point. The opportunity to exemplify before a deeply divided country a determination not only to be reconciled in the gospel but to practice the gospel in our political engagement. The opportunity to demonstrate in our politics that we will only support policies that genuinely serve the needs and concerns of all of God's children, white or black, rich or poor, male or female, Democrat or Republican.
"By this everyone will know that you are my disciples, if you love one another" (John 13:35).