Monthly Archives:
February 2017
I'm excited to announce that my book, Calvin's Political Theology and the Public Engagement of the Church: Christ's Two Kingdoms, will final be released next month. You can pre-order it at amazon.com, though it may currently be less expensive if you purchase directly through Cambridge University Press. The book is part of Cambridge's series of titles on Law and Christianity, edited by John Witte, Jr.
I'm grateful for the following endorsements from scholars who I greatly admire:
Nicholas Wolterstorff – Noah Porter Professor of Philosophical Theology, Yale University:
It's a superb piece of work, an important contribution and lucidly written. My guess is that this will become the gold standard in the field. Tuininga's line of interpretation will be much discussed.
Barbara Pitkin – Religious Studies Senior Lecturer, Stanford University, and President of the Calvin Studies Society:
This is an outstanding piece of intellectual-historical scholarship. It will appeal to historians of medieval and early modern political thought regardless of their personal faith or political commitments.
Michael Horton – J. G. Machen Professor of Systematic Theology and Apologetics, Westminster Seminary California:
Lionized as a founder of modern liberalism and demonized as 'the tyrant of Geneva,' Calvin has been used more than understood. Placing the reformer in his own context, Tuininga exegetes primary sources while challenging anachronistic stereotypes. In the process, we meet a complex figure who offers important and relevant insights for Christian political reflection, even in – perhaps ironically, especially in – a secular age very different from his own.
David Little – Berkley Center of Religion, Peace, and World Affairs, Georgetown University, Washington, DC:
Tuininga's account of Calvin's thought is original, lucid, well-informed, and timely. It is based on a firm grasp of the primary materials, a comprehensive familiarity with the relevant scholarship, and a challenging interpretation of Calvin's political theology with important contemporary relevance.
Elsie McKee – Archibald Alexander Professor of Reformation Studies and the History of Worship, Princeton Theological Seminary:
Tuininga's thoughtful and cogent examination of Calvin's two kingdom doctrine turns on one of the perceptive distinctions which make the reformer's thought such a complex yet coherent expression of Biblical commitment joined with practical intelligence. Tuininga appropriately points to the often neglected eschatological dimension of Calvin's thought to ground the way the reformer clearly distinguishes ecclesiastical and civil while also clearly affirming that Christ is Lord of both – ruling each in specific and distinct ways. The study focuses on the development of the teaching in its historical and religious context, providing a well-organized exposition of the interplay of scriptural exegesis with Calvin's affirmation of the gift of natural law in the human realm. Tuininga then draws some very timely conclusions about the resources Calvin's theology can offer for faithful Christian engagement in the modern pluralist world.
John L. Thompson – Professor of Historical Theology and Gaylen and Susan Byker Professor of Reformed Theology, Fuller Theological Seminary:
Tuininga's book is exemplary and informative not only for its rich display of Calvin's own thought but also for its serious engagement with the most important political theologians of our own day.   His painstaking examination of Calvin exposes many longstanding generalizations and replaces them with a Calvin who is at once more nuanced, more contextualized, and even more compatible with political liberalism than usually supposed — a Calvin who displays remarkable currency for us today, especially when we see the poignancy and depth of Calvin's concern for refugees and the poor.
David VanDrunen – Robert B. Strimple Professor of Systematic Theology and Christian Ethics, Westminster Seminary California:
Tuininga provides a clear and thorough account of John Calvin's doctrine of the two kingdoms, a topic much in need of such a study. The author's careful reading of Calvin's texts and thoughtful consideration of his context makes this a landmark work amidst the ample literature on the Genevan Reformer's political thought. As much as this book contributes to our understanding of Calvin as a historical figure, however, its most important contribution may be its argument that Calvin's two-kingdoms doctrine provides theological reason for contemporary Christians to support liberal democracy, at a time when many inside and outside the church question its viability. Christians who wish to think deeply about their political identity and responsibilities will find this a richly rewarding work.
And, finally, here is a brief description of the book:
In Calvin's Political Theology and the Public Engagement of the Church, Matthew J. Tuininga explores a little appreciated dimension of John Calvin's political thought, his two kingdoms theology, as a model for constructive Christian participation in liberal society. Widely misunderstood as a proto-political culture warrior, due in part to his often misinterpreted role in controversies over predestination and the heretic Servetus, Calvin articulated a thoughtful approach to public life rooted in his understanding of the gospel and its teaching concerning the kingdom of God. He staked his ministry in Geneva on his commitment to keeping the church distinct from the state, abandoning simplistic approaches that placed one above the other, while rejecting the temptations of sectarianism or separatism. This revealing analysis of Calvin's vision offers timely guidance for Christians seeking a mode of faithful, respectful public engagement in democratic, pluralistic communities today.
If I might say it myself, this book would make a perfect Valentine's Day gift for that special person near and dear to your heart. It might not seem like the most romantic gift, but I assure you, it is. We are living in the era of Donald Trump, after all.
Not persuaded? Here is the scintillating Table of Contents:
Introduction

Two Swords, Two Powers, or Two Kingdoms: Spiritual and Political Authority in Early Modern Europe
Calvin, Geneva, and the French Reformed Churches
The Kingdom of Christ
Two Kingdoms
Christ's Spiritual Government
Christ's Political Government: Early Formulations
Covenant and Law
The Magistrate's Care of Religion
Law, Democracy, and Resistance to Tyranny
Conclusion: Calvin's Two Kingdoms and Liberal Democracy
I began wrestling with this question last week Sunday when I read about two Christian families from Syria who, after fourteen years of working to attain permission to come to America, were told upon arriving at the airport that they either needed to leave the country or lose their visas. As CNN reported that morning:
Two brothers, their wives and children left war-torn Syria with 16 suitcases and crossed the border into Lebanon. They were finally on their way to the United States after working for almost 15 years to join their family members stateside.

But after a flight from Beirut to Doha, Qatar, and then to Philadelphia on Saturday, the two families were told to get on a flight back to Doha. It was because President Donald Trump had just signed an executive order denying citizens from seven countries, including Syria, entry into the United States.
One can imagine what these families – their last name is Asali – were going through. The years of painstaking work on applications and all manner of procedural requirements. The emotional stress. The financial cost. The lack of understanding (they spoke limited English and had no access to a lawyer or to their family members in Pennsylvania). The fear of what returning to Syria – where hundreds of thousands have died during the past few years, and where their ethnic group is one of the most persecuted – might mean. They already had a home purchased for them and fully furnished in America.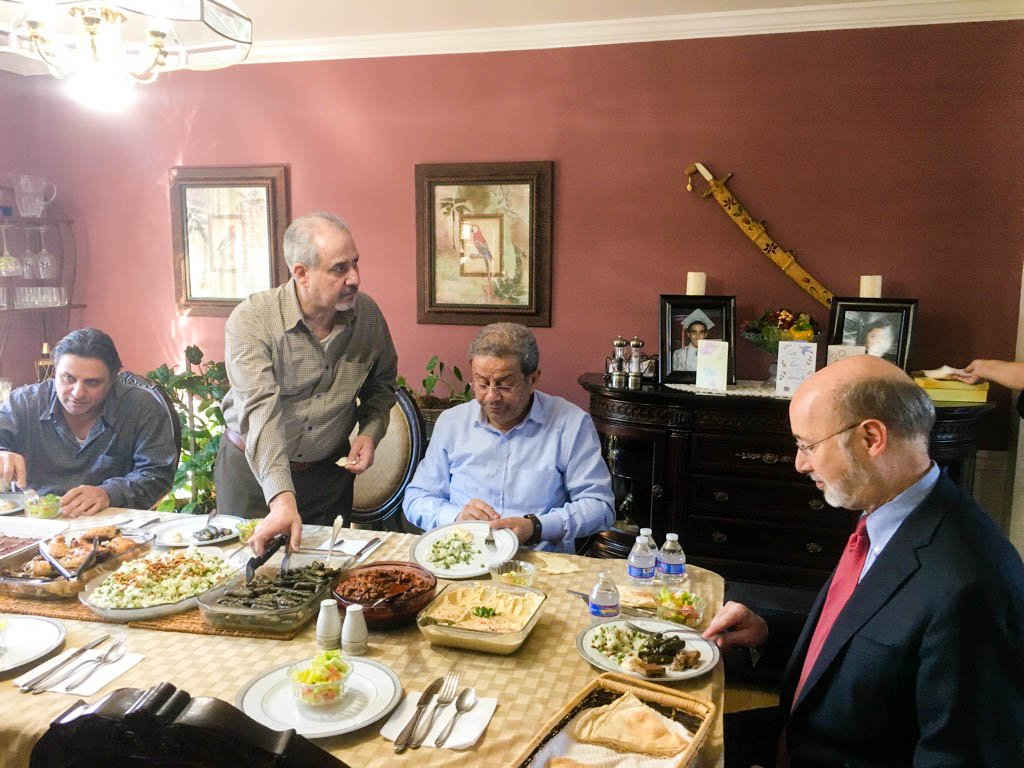 I wrestled with how the church should respond to Trump's travel ban that morning. In the services I led I reminded the worshipers of the trauma families like these are experiencing. And I prayed for them. I prayed for all those who were suffering from the president's sweeping travel ban.
But I didn't write anything publicly because I wasn't sure how to approach the issue in a way that wouldn't seem politicized. Christians are already deeply divided about immigration and about what our government has to do to protect us from terrorism. And it is, in fact, a primary responsibility of government to protect us from terrorism by controlling who is permitted to enter the United States. So we need to be very careful here. No pastor has the right to dictate immigration policy, let alone national security policy, from the pulpit.
That said (and I would not say this in a church service), the sheer arbitrariness and irrationality of President Trump's travel ban is quite well established. For one thing, even its staunchest defenders do not defend its execution. But we can go beyond that. Not a single properly vetted refugee has carried out a terrorist attack in the United States since 9/11. As the Atlantic observes:
Over the last four decades, 20 out of 3.25 million refugees welcomed to the United States have been convicted of attempting or committing terrorism on U.S. soil, and only three Americans have been killed in attacks committed by refugees—all by Cuban refugees in the 1970s…
Here's another fascinating statistic. As the libertarian Cato Institute points out, "Foreigners from those seven nations have killed zero Americans in terrorist attacks on U.S. soil between 1975 and the end of 2015."
The reality is that most of the terrorist attacks America has endured since 2001 have been committed by American citizens or permanent residents. True, some of these were foreign born. But to quote the Atlantic again, "Between 1975 and 2015, the 'annual chance of being murdered by somebody other than a foreign-born terrorist was 252.9 times greater than the chance of dying in a terrorist attack committed by a foreign-born terrorist.'"
There is good reason, then, why the courts might not find that President Trump's travel ban bears rational scrutiny – as it must, in order to be constitutional. We shall see where it all ends up, but I am thankful that, because of what the courts and other government officials have done, the Asalis have returned to the United States to stay.
In the meantime, what should the church do? Let's be clear. I don't think we should bring the politics or policy of the travel ban into our services. We need to be very careful here. We need to pay President Trump, his officials, and our courts the respect and deference we owe them, as the New Testament commands.
But that doesn't mean our churches should stand by silently as human lives are thrown into chaos by the fallout. It doesn't mean we should cease praying and advocating for the widow and the orphan, the stranger and the refugee. The vast majority of those affected by the ban are peaceful people who want to come to the United States for freedom, security, and prosperity just like our own ancestors did. And a good number of them are our brothers and sisters in Christ. Some of them are already part of our churches. We are responsible for them. We need to remember Paul's admonition that if one part of the body suffers, we all suffer. Only by bearing one another's burdens can we fulfill the law of Christ.
When I was a boy growing up in the mountains of northern British Columbia our small Christian Reformed congregation sponsored a refugee family who had been forced to flee the horror of genocide in Cambodia. I remember one young boy, Naroon was his name, who became my friend. We were about five years old. His family attended my church. The body of Christ became a ministry of salvation for them in a way that I will never forget.
At the very least, then, every church must make one thing clear. We stand in solidarity with refugees and immigrants. We respect our government's right to determine when and how they come into this country, but we pray and advocate for the acceptance of as many refugees as is safe and feasible. Then, once they are here, we welcome them with open arms. We care for their material and spiritual needs. We help them find jobs, homes, and playmates for their children. We seek reconciliation and unity with them as brothers and sisters with whom we desire to be one body in Christ.
If we are afraid to do these things as churches and as Christians because they offend our political sensibilities then we had better take a deep breath and reconsider our politics. We have to ask ourselves, where does our primary loyalty lie? Jesus, for his part, has told us that he will take our treatment of refugees personally (Mathew 25).
To stand in solidarity with refugees and immigrants is not to politicize the church. It is to fulfill the exhortation of Christ in Matthew 25:45, "whatever you do for the least of these, you do it for me."
God is a God of justice. When people try to worship him while continuing to practice injustice, he utterly rejects their worship. This is the consistent truth communicated in scripture from its beginning to its end. That's one reason why the Calvin Institute for Christian Worship emphasized the decisive importance of justice for Christian worship in its recent symposium. And rightly so. We cannot seek the kingdom of God without also seeking its justice/righteousness.
And yet, as the speakers at the symposium reminded us, worship is not enough. This morning this truth struck me afresh in a new place: Psalm 50.
Psalm 50 is situated in an interesting place, coming right before King David's famous confession of sin in Psalm 51. Israel's greatest king had committed a series of acts that we would associate with the most corrupt and tyrannical of kings. He had used his power to steal (seduce? rape?) the wife of one of his best officers, and then he had that officer murdered and the whole affair covered up.
Psalm 50 reminds us that when people act religiously while practicing injustice the result is merely their own condemnation. God is a "God of justice" who "will not be silent." He gathers those consecrated to him by covenant, "that he may judge his people."
The psalm pictures God coming down from the heavens and arraigning his people in court. Yet God's first words are surprising: "I bring no charges against you concerning your sacrifices or concerning your burnt offerings which are ever before me." Surprisingly, God has no problem with his people's worship. They are doing all the right things on the outside. They are acting piously, by all appearances putting God first in their lives and observing the first table of the law.
But then the other shoe drops:
What right have you to recite my laws or take my covenant on your lips? You hate my instruction and cast my words behind you. When you see a thief, you join with him; you throw in your lot with adulterers. You use your mouth for evil and harness your tongue to deceit. You sit and testify against your brother and slander your own mother's son. When you did these things and I kept silent, you thought I was exactly like you. But I now arraign you and set my accusations before you (Psalm 50:16-21).
These words served as a perfect accusation of King David. He recognized in his own way that he was guilty as charged. But I wonder how many of us have come to grips with the ways in which our own churches fall into the same sorts of hypocrisy. Far too often we preach and sing the grace of justification by faith alone through the cross of Christ one day of the week while downplaying its implications for the rest of our lives. We celebrate the first and second marks of the church – preaching and the sacraments – while ignoring the third, gospel-driven discipline.
Sure, we usually do this selectively. Liberals and progressives, conservatives and traditionalists each have their own favorite sins that they like to denounce, while ignoring those that seem to painful to confront. In the meantime, adultery and complicity in oppression are far too prevalent among us, as we live our comfortable, non-confrontational lives. We are so used to slander and deceit – or even practicing it ourselves – that we stand by as it crashes like a wave through the highest places of the land. We would rather be secure in our salvation, and possess power in the land, than be known as those who stand and suffer with the God of justice.
Psalm 50 reminds us that this form of religion will not stand. God is not like us, as we like we to imagine, and he will not be silent. Christ came to save us from our sins but he also came to defeat the principalities and powers (Colossians 2:15). He preached the kingdom of God, but he also proclaimed its justice/righteousness. We must continue to repent of our own complicity in injustice/unrighteousness, but not simply to go on living and speaking in the ways we did before. Rather, as individuals and churches we must continually be working out the full expression of our salvation, for justice and righteousness, in fear and in trembling, as the Spirit of God works in us, both to will and to do (Philippians 2:12-13).
For the kingdom of God is not a matter of eating and drinking, but of justice, peace and joy in the Holy Spirit (Romans 14:17).