Category Archives:
Abortion
When it was signed and proclaimed in 1776 by the thirteen American colonies, the Declaration of Independence was more of an aspiration than a statement of social reality. But it committed the United States to the protection of fundamental rights of equality, life, liberty, and the pursuit of happiness, based not on privilege or achievement, not on race or gender, not on age or state of health, but on the gift of a divine creator deemed to be self-evident, revealed in natural law.
We hold these truths to be self-evident, that all men are created equal, that they are endowed by their Creator with certain unalienable Rights, that among these are Life, Liberty and the pursuit of Happiness.
Human beings have always found ways of justifying the killing or oppressing of other human beings, but the most common form of such justification is to deny the universality of liberty, equality, or the right to life. For instance, John Locke, one of the great fathers of modern liberty, pointed out that slaves are not persons in the eyes of the law. They may be forms of human life, even human beings, but they are nevertheless not persons. For nearly a century Americans insisted this about black people, that they are not persons about whom such rights are self-evident.
But the Declaration of Independence does not speak in terms of legal persons. It speaks – albeit in the gendered language of another age – about human beings. To pretend that this country was genuinely dedicated to liberty and equality was sometimes an aspiration, but far too often it was simply a display of hypocrisy. Most Americans now accept that.
But far too many still delude themselves with the lie that unborn human beings are not persons. They may be forms of human life, even human beings, as science as unequivocally demonstrated, but they are not persons. Only this explains how (as I recently experienced) American college students can engage in a lengthy discussion about the Holocaust, utterly perplexed about the fact that the Nazis were able to murder sick and handicapped children – German, "Aryan" children – without the German people rising up in opposition. What must Germany have been like, they muse, to let that happen? Not one student mentions abortion in the United States, though I would bet a lot that it crossed the minds of at least a few.
Americans are sometimes stirred when a process of killing they prefer not to think about – a process deemed ordinarily to be humane and painless – turns ugly and heinous. This is taking place as the trial of Dr. Gosnell in Pennsylvania finally becomes mainstream news. Babies older than the legal 24 weeks are being killed! Babies who are born, on whom the 'harmless' abortion technology has failed, are having their skulls crushed, their bodies decapitated, their throats slit! Abortion 'patients' are dying due to medical malpractice! This is not how Americans do things.
We are not supposed to make such comparisons, but if we are intellectually honest we cannot help but think of how Americans were stirred when hearing stories of black slave children being sold away from their parents, or when Germans thought that Nazi genocide was becoming somewhat excessive. We don't do things like that. Few reasoned at the level of fundamental assumptions about human life; few considered that the only reason such horrible things are possible is because they take place in the context of a broader legal system that denies basic rights to the victims in question. Jews were segregated and persecuted long before the Nazis started killing them. Black people were brutally enslaved well before they were sold, whipped, raped, or murdered. After all, Jews were different. Black people were not persons.
It is no different with what we call abortion, or even with the sort of post-birth abortion for which Dr. Gosnell is on trial. For those involved in the barbarism others find so troubling, the line can seem quite arbitrary. If we are legally permitted to direct all of our efforts to the death of this baby until it unfortunately emerges from the birth canal of a woman, how can it be so heinous simply t0 sever its neck – a quick snip with the scissors – once it has emerged?
My wife is having an ultrasound today. Our unborn child is about 20 weeks old. She, or he, is a human being, and everyone knows that, because when they talk to us they refer to our baby as a human being.  If someone would attack my wife in order to kill our child, that person would be guilty of murder. Yet a doctor like Dr. Gosnell, if given permission by my wife, could murder our child with impunity. It happens thousands of times every day.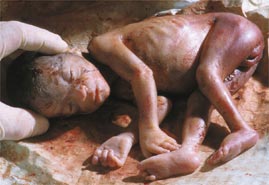 Systematic atrocities occur because they are deemed to be legal, exceptions to normal rules of human behavior. They are built upon myths about human beings that are broadly accepted due to ideology or convenience. Although there are usually a few activists who speak up on behalf of the oppressed, most people simply do not question – are not willing to question – society wide group-think. If it is legal, if everyone approves of it, how can it be wrong?
In these cases often the only way to break through is at the level of symbol, image, or story. As Donald McClarey writes,
In the days of the struggle against slavery, a great many people were "personally opposed" to men, women and children being held as chattels, but they would do nothing against the institution.  They tried to ignore it, not to think about it, and they jeered at those tiresome abolitionists who kept bringing it up.  However, stories would sometimes break through that would force these people to confront the reality of slavery, and many of them found it truly appalling.  Kermit Gosnell's case is forcing a great many people who try not to think about the reality of abortion, to confront the simple fact that an innocent child dies in every abortion.  Gosnell is a mirror of what we are becoming as a people over the past four decades of legalized abortion.  It is no wonder that the abortion uber alles Mainstream Media attempted to spike this story.
If you aren't following this story yet, you should. Read the Washington Post's confession that it let President Obama off the hook when it failed to report that he was lying about his opposition to Illinois legislation that would have protected survivors of failed abortions. Read Megan McArdle's admission that she – like so many others in the media – didn't write about the Gosnell trial because its horror was unpleasant and because "most of us tend to be less interested in sick-making stories—if the sick-making was done by 'our side.'" Read The Atlantic's Conor Friedersdorf's recognition that complaints about the story's lack of coverage are – if anything – understated.
Read the Grand Jury Report, or at least excerpts from it. Read the testimony of staffers who murdered babies because they saw Dr. Gosnell do it and were "only following orders." Read about Planned Parenthood representative Lisa Snow's struggle to explain whether her organization would do in the case of born babies who survived failed abortion attempts. Finally, read this scholarly defense of "after birth abortion" – infanticide – in the Journal of Medical Ethics. And remember that most often when babies are killed in this country there is no trial. Such killing is legal. Unborn babies are not persons.
We can keep telling ourselves that unborn children are different. That abortion is different. That somehow the moral weight of this question is not so serious – surely not so serious as were those that faced our forbears in other times and places (forbears we do not hesitate to judge, thinking that surely we would have acted differently). But our hypocrisy as a nation will be all the greater, especially to those who look back on our actions when they are in the dustbin of history.
We hold these truths to be self-evident, that all men are created equal, that they are endowed by their Creator with certain unalienable Rights, that among these are Life, Liberty and the pursuit of Happiness.